Boardwalk Empire is back! Season three kicked off a few weeks ago with plenty of booze, blood, and dresses. Unlike the previous two seasons the dresses on season three are showcasing the best of 1920′s "flapper" style gowns. Elaborately beaded with rich hues of gold Boardwalk Empire opens on New Years Eve 1922 with an Egyptian themed party. Themed parties were the "in" thing to attend during the 1920′s. The discovery of King Tuts Tomb put Ancient Egypt on the map and everything Egyptian became the latest fad. From clothing to jewelry to house hold decor Tutimania hit the western world by storm. Boardwalk Empire writers, producers, and costumers did a nice job setting the scene but it is a little premature.  King Tuts tomb wasn't discovered until November 26, 1922 – one month before the big celebration. It was a little too soon for dresses to be inspired by the latest discoveries. It look several months to even begin categorizing and photographing all that was part of king Tuts tomb. That and the delays in sharing the photographs around the world meant most people were not seeing the discoveries until at least 6 months later. The wave of Egyptian themed parties and clothing would not have been so abundant until at least 1924.
In any case the clothing is gorgeousness and just like in 1922 the mania for gold, beads, and drop waist dresses is ever present today. Last year I could barely find a 1920′s style dress to included in my 1920′s shopping resources page- now I am overwhelmed with choices and more and more are being added daily. Boardwalk Empire is certainly helping to push the 1920′s style dress revival.
For those who want a Boardwalk Empire inspired dress your choices are plentiful if you want a fully beaded , fringed, or feather trimmed dress. Unfortunately designers seem to forget about all the other beautiful 1920′s style dresses that were not so elaborately decorated yet much more common. For those you will have to seek out genuine antique 1920′s dresses and pay a lot for wearable ones (I'm still hunting for my diamond in the rough.)
Here are my top picks for beaded Boardwalk Empire Inspired dresses (with and without Egyptian themes.)

1920′s Style Black & Gold Seven Voyages Beaded Reproduction Flapper Dress
Price: $168.00
The gold fringe against the black net is so Egyptian, so beautiful. I'm in love.

Blue & Silver Embroidered Reproduction 1920′s Flapper Dress 
Price: $260.0
This one reminds me of dresses worn by Nucky's lady "friends." The glass beading is stunning.

Sue Wong Strapless Gold Feather and Beaded Flapper Dress
Price: $404.0
Although strapless tops were not part of 1920′s fashion this one blends vintage and modern so well it would make a great cocktail dress for a Boardwalk Empire themed party. Pretty much any dress designed by Sue Wong would make great 1920′s party dresses.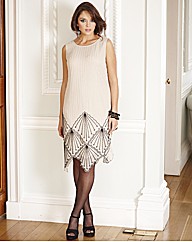 Beaded Flapper Dress
Price: $88.0
This simple 1920′s style sheath dress with art deco bead design brings the right amount of  glamour to a modern or vintage party. This is the type of dress to pair with 1920′s jewelry and headbands.

1920′s "THE SABLE" Black Beaded Dress
Price: $180.0
Bring on the fringe with this mid knee length 1920′s inspired dress. Very Boardwalk empire style.

 Fringe Tunic Dress 
Price: $54.99
Described as Bohemian this dress has a pattern that is very Egyptian yet 20′s with the fringed hemline. A unique dress that will set you apart from all the beaded gowns.


Peach Ruched Chiffon Beaded Boardwalk Empire Inspired Dress
Price: $578.0
Another Sue Wong dress that is floor length and elaborately decorated. Of all the dresses this one is most period correct for the early 1920′s.
If you love Boardwalk Empire dresses please share this page with you Facebook friends.